<meta name="google-site-verification" content="VnVGVHQR5CMv7kN59aXdbH6V8ToPVvSbBXVxtiNQLWE" />

<meta name="verify-v1" content="XvQM7j6W+Y1QK16tnbxa+5VkjWT5V0iP/ryYm1qDqQg=" />

HOME PAGE SHOWS/APPEARANCES SET LIST PHOTO GALLERY MAILING LIST REVIEWS/E-MAILS BOOKINGS / CONTACTS / LINKS
ROB COMBER (VOCALS, Freddie Mercury)
NICK BALLARD (GUITAR, Brian May)
WAYNE BOURNE (DRUMS, Roger Taylor)
KEVIN GOODWIN (BASS, John Deacon)
1998 QUEEN FAN CLUB CONVENTION
"We came to see you at the [Felixstowe] carnival last night and well, what can I say?!
You were EXCELLENT, BRILLIANT, AMAZING, WONDERFUL AND BY FAR THE BEST OF ALL THE TRIBUTE BANDS WE HAVE SEEN.
Please can you tell me if you are playing anywhere else in this area or the south east as we would love to see you again.
We had the privilege of seeing you a few years ago and you just get better and better.
Thank you for a fantastic show."
Love and regards
Sue
Hi guys,
"Thanks for a cracking show last sat 28-07-07 in Tavistock. Have seen other Queen Tributes in the past but you guys take it to another level. The skill & stage presence shown were fantastic. Would tell anyone who likes music, to go & watch one of your gigs. My missus & myself look forward to seeing you next time you come down. Once again many thanks for a great evening,
Jeff & Kaz
I just wanted to write and say a huge THANK YOU!! for a wonderful evening on Friday. We all thoroughly enjoyed ourselves! The Bohemians were absolutely amazing along with Johnny Cowling and Michelle Pluess.
I don't know if you remember me coming over to say hello to you!
Anyway I felt I just had to let you know how much we enjoyed ourselves. We were aching Saturday morning after all the jumping about, dancing and clapping our hands!!
Kind regards!
Linda
Cornish & Devon Post Limited
<![if !vml]>
<![endif]>
"Thank you Guys, Brilliant". Brian May
"It's Uncanny". Roger Taylor

---

The Bohemians re-enact the glory days of Queen including the Craziness of the 70s and the Magic of the 80s.
The Bohemians are a favourite with the official Queen fan club, as they were the first look-a-like to headline the Queen fan club convention with an audience of over 2000!!
They were also first Queen tribute to be seen by Queen guitarist Brian May, who described the band as "brilliant" and Queen drummer Roger Taylor who said "Its Uncanny".
If you love to hear songs played and sung so faithfully and respectfully, and like the Queen live running order which includes songs like Radio Ga Ga, Bohemian Rhapsody, and A Kind of magic - which sound so fresh, so live, and so real then this is for you. These four guys certainly do the songs justice - from the first few bars of We Will Rock You right through till the end of the final track, We are the Champions!
1996
The Bohemians Queen Tribute were established in early 1996 & Headlined the Shepard's Bush Empire late 1996.
1997
The Bohemians 'The 1997 International Queen Fan Club' Christmas party, where they supported The Cross, (Roger Taylor's ex band.)
1998
The Bohemians Queen Tribute headlined 'The 1998 International Queen Fan Club' Convention, with an estimated attendance of two thousand five hundred Queen fans.
1999
In 1999 The Bohemians Queen Tribute played support to Brian May and The Cross at the Queen Fan Club Freddie Mercury Birthday Party
2000-2004
During 2000-2004 The Bohemians Queen Tribute toured the world including; China, Jordan, Switzerland, Holland, Belgium & Ireland
2005
In 2005 The Bohemians Queen Tribute appeared on ITV's Queen Mania, Radio 1 & 4 and were fast becoming one of the worlds leading tribute bands.
2006
In 2006, The Bohemians Queen Tribute travelled over 9,000 miles playing to over 25,000 people; including five show over one weekend, an audience size of over 3,500 at the Hastings Music Festival and professionally filming the 'Party on the Green' show at Smarden in Surrey with an audience size of over 2,000 people. The Bohemians also appeared on the Charlotte Church Show.
2007
The 'Live Rhapsody' DVD was released in Summer 2007. The Bohemians played a record number of shows since forming in 1996 including many football stadiums, festivals, theatres and music venues.
2008
So far 2008 has seen The Bohemians tour Ukraine, India and have SELL-OUT shows in the UK. Most recently playing with Al Murray at his 'Happy Hour' Wrap Party with Brian May and Queens backing band in the audience. Click Here to see.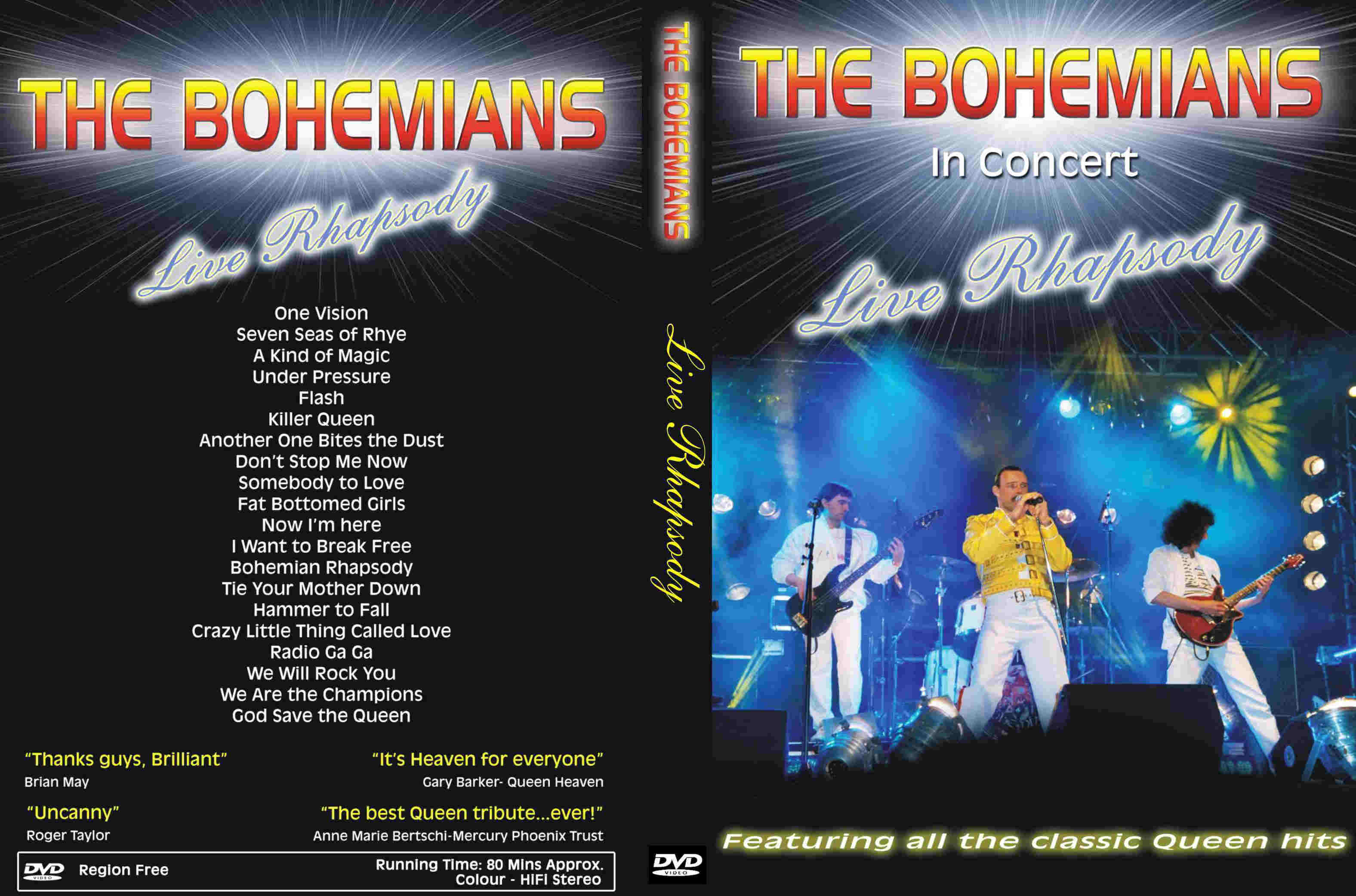 Go To Our ONLINE VIDEOS page for a preview
Contact: Kevin Goodwin
email: Info@thebohemians.com
Tel: 020 8685 1721